Product definition is the most critical design step in a product design process, yet often overlooked by companies and product designers.
What is Product definition?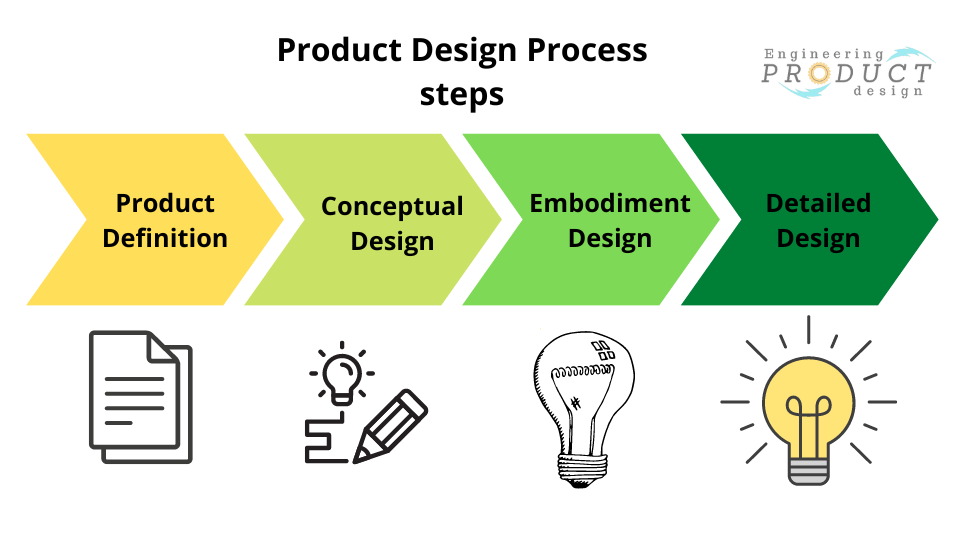 Product Definition (PD) is, as the name implies, correctly identifying the requirement for the product. Therefore, product definition is the first step in Product Design Process (PDP), as shown in the image below, which starts the product design journey. This activity creates a thorough PDS in the form of a requirements list that emphasises all technical, economic, and quality factors. This PDS will be the input for the next conceptual design stage.
Depending on the business, product and NPD stage, it could also be called a "Needs analysis", "Problem definition", "Product planning", and "Task clarification".
Product planning is generally done at the very early stage of the PDP or the new product development by product managers, marketing and management. Unfortunately for the product designers, some decisions about the PDP are made even before the engineering design process begins because of economic reasons.
Task clarification is when the engineering takes over a client's specification, which might be a partially fledge product specification.
Understanding how customers perceive an organisation's products, services, and brand involves conducting a customer needs analysis.
Why is Product Definition essential?
The product definition activity's main objective is to understand the product requirement or problem thoroughly. No matter what type of product design the company is developing, the design team should first establish the technical requirement of the product by analysing the client's requirement and creating a Product design specification (PDS).
The design and development team typically receives the product design request in one of the following ways.
A written or verbal request from an external client or internal department with a problem statement
A brief overview of core product requirements
If it is a technology or innovation-driven requirement, then the design team has to come up with product ideas using the new technology.
Hence the product definition stage helps the design team to achieve the following;
It ensures that the engineers and designers dissect and understand the requirement of the product.
It produces a written official document, a PDS, against which the product can be verified and judged.
It helps the client explain more in detail so the designers can understand the finer points.
How to define the product design
There are three key steps to defining a product requirement
Identify requirements
Gather information
Create a Product Design Specification (PDS)