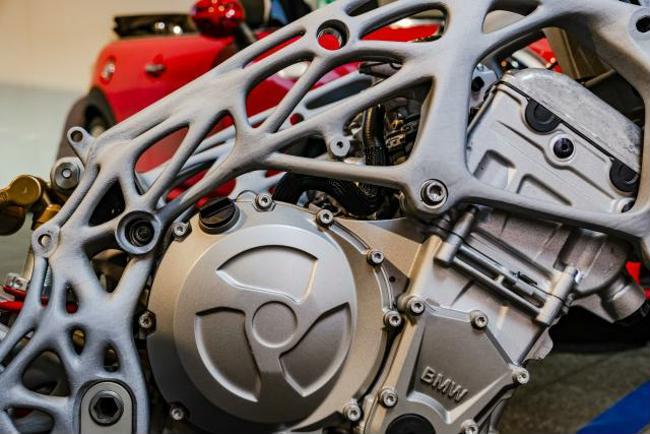 At its digital day in Mallorca, BMW boasted its S1000RR sports bike chassis made out of 3D printing (aka additive manufacturing). It was showcased just days after BMW announced plans to invest more than €10 million in a new additive manufacturing campus in Germany to develop their expertise in 3D printing.
Although the bike was only partially built and BMW hasn't released any other information, its free-flowing natural curves are a jaw-droppingly futuristic and sci-fi movie style.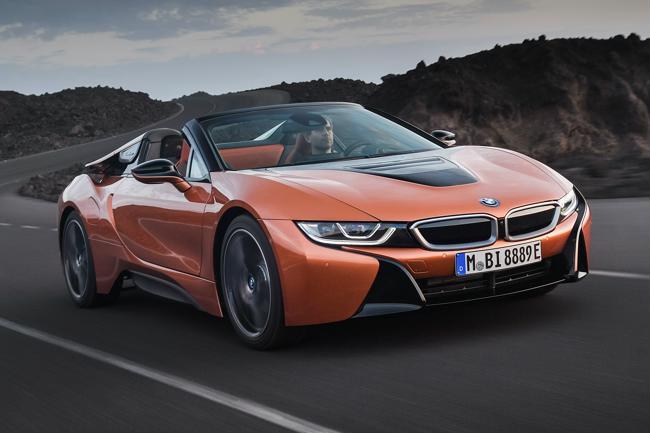 BMW is not new to additive manufacturing as it had in the recent past become the first car manufacturer to use a 3D printed metal production part in its BMW i8 Roadster. As shown in figure 3, the part is a fixture made out of aluminium alloy on the tonneau cover for the soft-top. They claim that it's lighter, more rigid and stronger than a normal injection moulded part.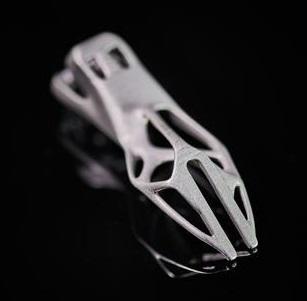 As you can see the parts' bionic geometry which has been optimised for 3D printing through topology optimization is very hard to be manufactured using other methods of manufacturing.
Both parts show the ingenuity and sophistication that can be achieved when additive manufacturing and topology optimization are combined.
These parts are manufactured using a technique called Selective Laser Melting (SLM) or Direct metal laser sintering (DMLS), which is a Powder bed fusion technology. Read how one of the 7 additive manufacturing technologies, Powder bed fusion works here. You can also read what are the 7 types of 3D printing here.
Topology optimization allows the designers and engineers to refine the detailed part geometry to reduce weight by changing its 3D shape and without affecting its integrity to fully utilize the additive manufacturing technology. Topology optimization is a mathematical software tool that reduces the weight of a defined 3D space, taking into account the material, it's properties and a fixed set of loads on the design space. (Read more about Topology optimization here)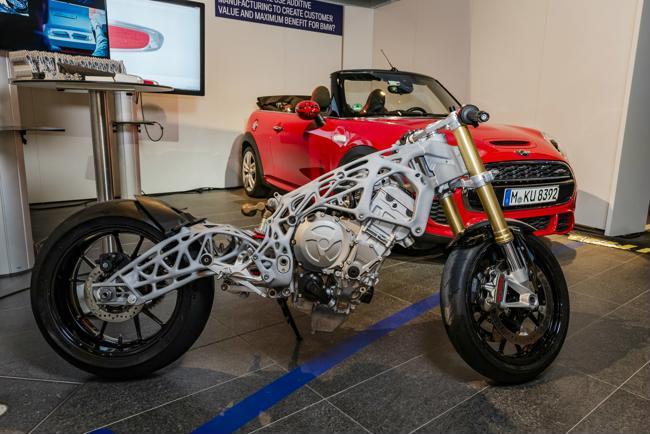 Benefits of combining Additive manufacturing and Topology optimization
Design freedom – Part performance and the shape are not limited by the imagination of the engineer or the limitation of traditional manufacturing processes
Reduced time to market – Automated iterative design process leads directly into CAD file loading into additive manufacturing without the need for time consuming drawings or tooling requirements
Part customization – Tailored designs and parts can be manufactured in various forms within the same setup