A product design process is the sequence of steps or activities a business employs to formulate, design, and manufacture a product. Typically, they are part of an overall New Product Development (NPD), where the companies create new products via efficient idea generation, concept development to manufacture and commercialisation.
What is a Product Design Process?
A Product Design Process (PDP) is a set of planned activities that convert an idea into a product and make it commercially available to the end user.
In today's world, modern technologies are a very complex social enterprise. Hence the product design process includes research and development, design, management, marketing, finance, manufacturing, production and maintenance.
Because of this complexity, an individual can't manage this engineering product designs single-handedly. Due to this extent of multiple stakeholder involvement, it's vital to have planned processes and effective communication across the stakeholders.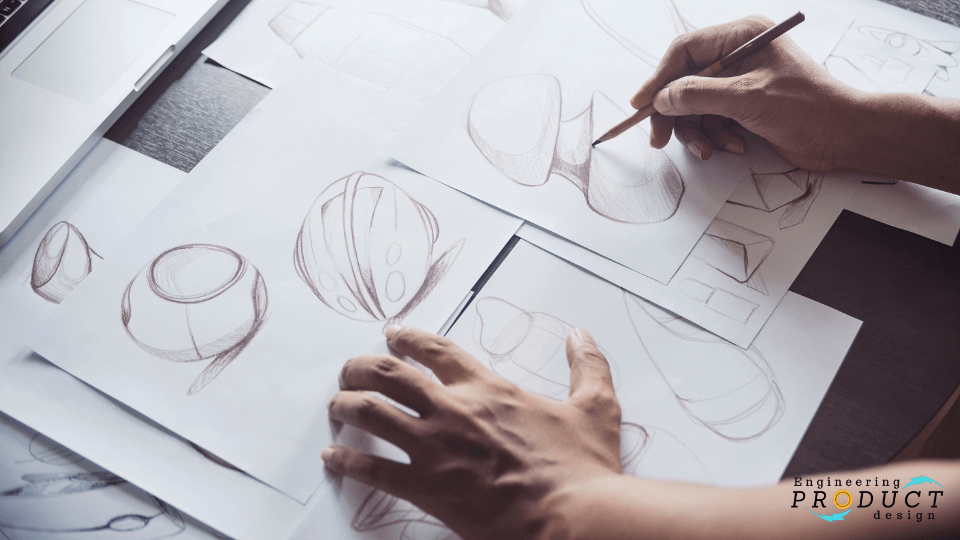 Hence, to increase the probability of a successful engineering product design, the planning and execution of a systematic design process are crucial.
Types of Product design processes
The design process may vary according to the products, such as whether they are tangible or intangible. For example, physical products such as smart watches, mobile phones and earphones are examples of tangible products where the product design process involves detailed design and manufacture. On the other hand, intangible products such as services, mobile phone applications, and computer software will have Implementation, testing, verification & Deployment instead of Detailed design and manufacture.
Product design processes also change depending on how the engineering product innovation is driven, whether Demand-pull innovation (Market-pull) or Invention-push (Technology-push) innovation. This article concentrates on the tangible engineering product design process.
Product design process steps
Without a product design process plan, product designers would have an overwhelming number of options, given the process's complexity and the numerous available methods. Designers must therefore become knowledgeable about the design process, various techniques, and the working and decision-making steps suggested in procedural plans.
In his book French. M.J. groups the product design process into the following four main phases: Problem analysis, Conceptual design, and embodiment of schemes and detailing. According to Koberg and Bagnell, the product design process typically involves Product analysis, Concept stage and Product Synthesis.
According to Pahl and Beitz, the design process needs to be broken down into phases and small steps, each with its procedures, to have a successful new product design. With this in mind, they split the process into four phases.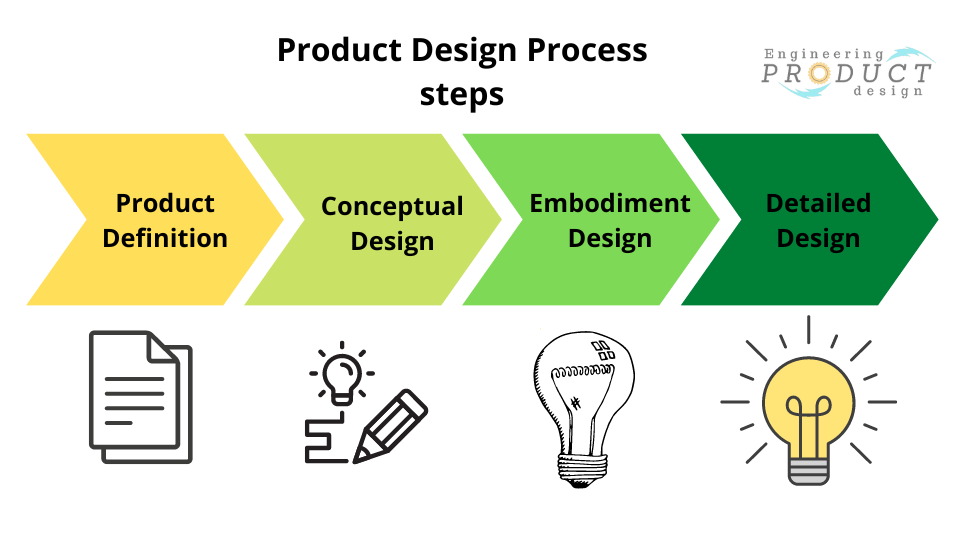 Product Definition – Product planning
As the name implies, product definition defines the product in detail so the actual design can begin, and any subsequent steps rely on these requirement definitions. Depending on the nature of the product design, this is sometimes knowns as a "Problem definition" or "Product Planning" or "Task clarification".
This step is distinct from the fuzzy front end, where product planning happens at the top level, such as marketing or the business.
Typically the product design and development task is given to the engineers and designers by either the marketing department or a client. Even if the requirement is captured in a document, the design team must clarify the requirement and start a Product Design Specification (PDS).
As a result of this activity, a comprehensive PDS in the form of a requirements list emphasising all technical, economic, and quality factors is produced.
Conceptual design
Concept design, also known as conceptual design, is an early stage of the design process in an engineering setting and results in the specification of a principle solution or so-called "Concept".
There are several steps in the conceptual design phase, and if the most effective general solution is to be found, then the Designer should include all of them.
Define the problem and refine the PDS
Investigate the existing solutions
Generate ideas and concepts
Evaluate concepts
Finalise concepts
Embodiment design
This is the stage of the design process where the design of a technical product is developed from the basic idea or concept per technical and economic standards up to the point where further detailed design can result in immediate production.
Three key stages of Embodiment design
Product architecture
Design configurations
Parametric design
Detail design
During this stage of the design process, all of the individual parts' arrangements, shapes, dimensions, and surface characteristics are finalised. Additionally, the materials are specified, production possibilities are evaluated, costs are estimated, and all drawings and other production documents are created. The detailed design phase results in a detailed final specification of every part and assembly in the form of production documentation such as part drawing, assembly drawing, bill of material and production procedure.