Pillow block bearing units are housed bearing with a machined mounting surface and used in the mechanical transmission to support shafts.
Contents covered in this article
What is a Pillow block bearing?
Pillow block bearing units are usually a housed bearing with a machined mounting surface and are used in mechanical power transmission systems to support shafts and couplings. The shaft is parallel to the mounting surface and generally perpendicular to the mounting screws. They are a type of housed bearing unit. These could have different types of bearings such as ball bearing, cylindrical bearing, tapered roller or synthetic bushing.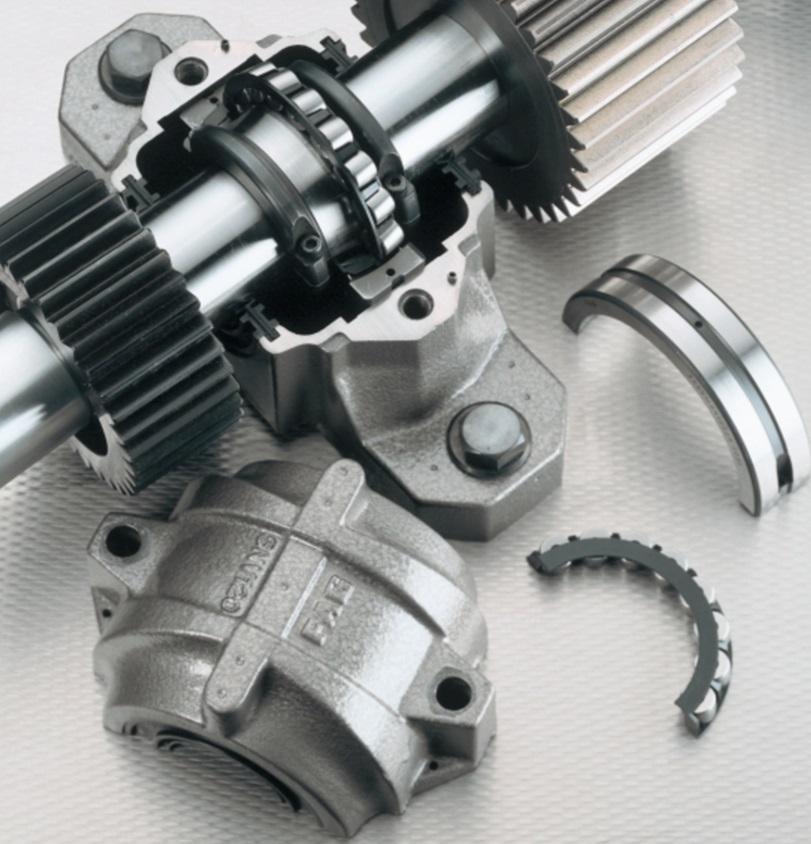 They are sometimes identified as "Pummel blocks", although they are marginally different in their construction. It is important to understand the difference between the pillow and pummel block bearing units. While the design is very similar and uses the same types of bearings, They differ in terms of their application. Plummer blocks are used to transfer high power and support heavy industrial loads, while pillow blocks are for lightweight usage. Due to this difference, their construction material and choice of bearing types may also vary.
Pillow block bearings types
Pillow block bearings can be classified into two types in terms of housing construction.
Solid and split housings. Solid housed bearings are single-piece housings, while split housed bearings are two-piece housings.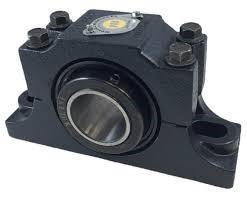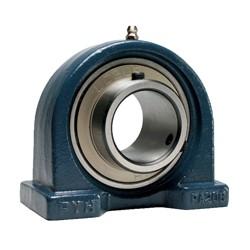 How to select pillow block bearings
Select a bearing type, suitable for your application, i.e. Load type, shaft size, running speed, misalignment etc. They can contain the following types of bearings

Plain bearing
Ball-bearing
Roller bearings – Tapered roller bearing, Spherical- roller bearings, Cylindrical roller bearings
Select the correct housing material for your application and environment
Choose a suitable shaft attachment

Units can have set screw, eccentric lock, single or double set collar, concentric lock or tapered adapter
Consider split type if it's necessary and if it would make the installation easy
For high load applications, choose a pummel block bearing unit with a suitable bearing type
Seals vary as well, including clearance seals, light contact, heavy contact and auxiliary type seals
How to Install a Pummel blocks
With careful consideration of selection, proper installation and good maintenance, pillow block bearings can last years without the need to replace them.
This video How to Install a Pillow Block Bearing by Rexnord is worth watching to learn more about the best installation techniques.
Pillow block bearing applications
These units are very versatile and can be used in various applications. It can range from shafts supported by single to several bearings units. For example:
Belt drives connecting motors and pumps
Long shafts connecting motors and industrial gearboxes
Conveyor belt roller
Rolling mills
Ventilation systems
Paper machines